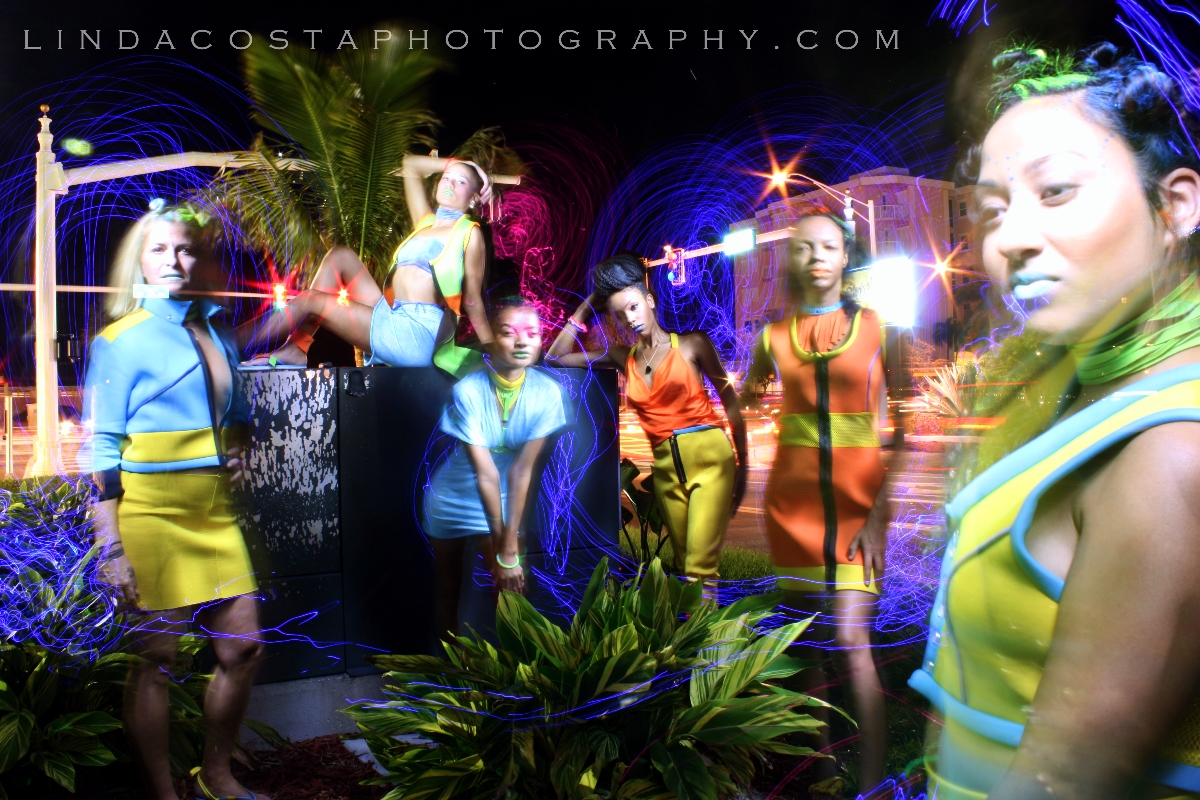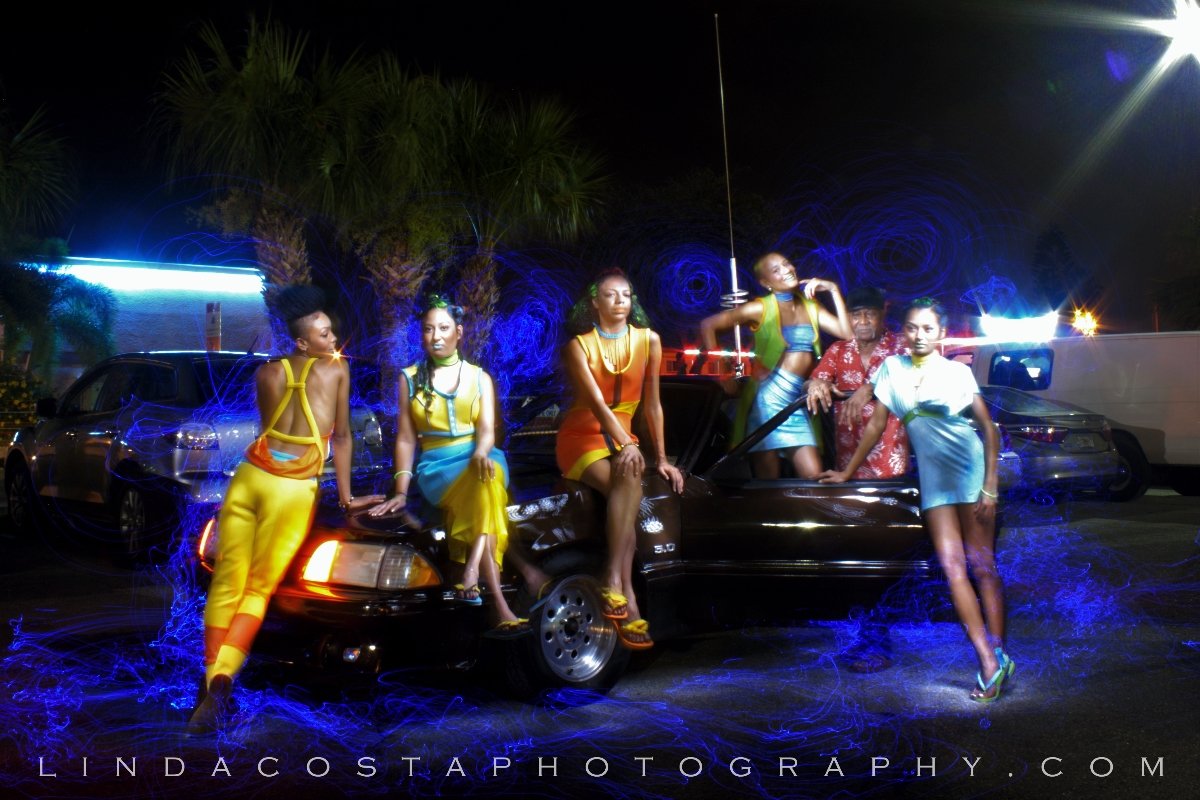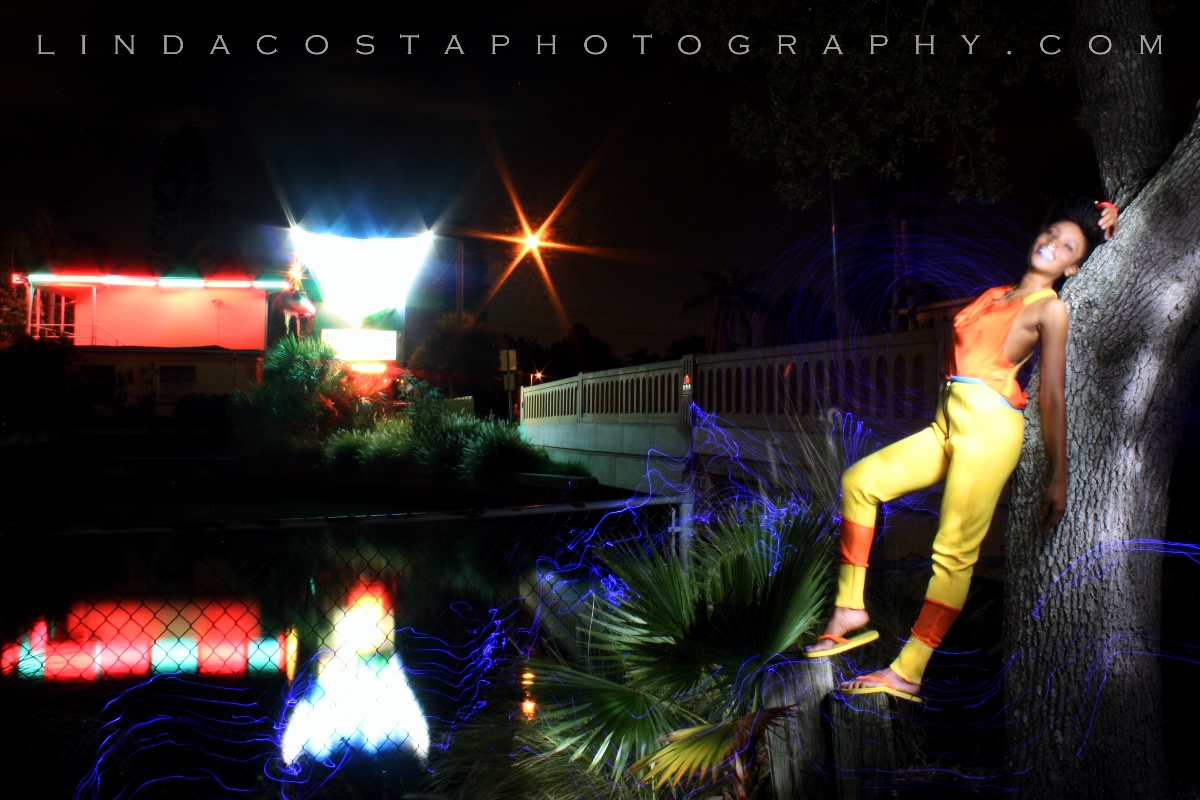 Last month I had the unique opportunity to capture Jenique Hendrix's newest fashion collection at its debut at the Neon Dreams art opening at The Sharpie Gallery in Treasure Island, FL. Her surf inspired fashion line "Ride the Wave" uses materials usually reserved for active water wear in innovative and inspired ways, creating clothing that rides the line between what mod fashions icons like Twiggy were famous for, but with bold neon colors and a cutting futurist style that is more likely to be found in characters populating the world of the film Tron. It is fashion forward, inventive work. Jenique's energy is contagious and her creativity seems endless as she played the roles of model, designer, stylist and make-up artist for our shoot. The gorgeous models I had the pleasure of working with were of diverse backgrounds, sizes and shades, all hand chosen by the designer herself with intent and purpose. Even in the sweltering heat of Florida, it was pure joy creating these light paintings with this group of talented, creative, and gorgeous women! I hope to have done justice to such an exciting new collection and the glamorous women wearing the work, which I contrasted in against the neon lights of Treasure Island and the neon art work currently on view at The Sharpie Gallery. The Neon Dreams exhibit runs through the end of September. For more information about Jenique's fashion, modeling and acting you can contact the artist directly via her website www.jeniquehendrix.com . To purchase prints from this shoot, or to book your own light painting experience, contact me and let's make magic!
Looks designed, styled, and created by Jenique Hendrix.
Models: Jenique Hendrix, Chanda Am, Kimberly Mohamed, Melanie Perri, Courtney Haynes, Marianna Jazmine, and Mr. Phillip "Nitro" Bozeman.
Light Paintings created live during the Neon Dreams Opening by Linda Costa Cheranichit.
Location: The Sharpie Gallery, 11165 Gulf Boulevard, Treasure Island, FL 33706.